As of 31/12/2020 This site will no longer be maintained. The game has reached EOL with the end of Flash and will not be available
This site will remain as a reminder and as an archive until such time as it is purged by Fandom as part of their semi-regular cleaning schedule.
As the last editor of the site I'd like to wish all the players happy gaming in whatever world calls to you next.
Cheers AC
Welcome to the Dreamfields Wiki
A wiki about the game "Dreamfields" by Enixan Entertainment. This wiki is an independent product of fan labor and currently not affiliated with the game's developers or distributors. This wiki is based on the Plinga version; differences to other versions of the game need to be labelled.
For information, use the wiki search function or look through the wiki index below.
Dreamfields/Fantasy Garden
The world of dreams awaits you! With dragons, jam-eating bears, and all of your wildest fantasies can come to life! Dreamfields is the ultimate social farming game presented to you by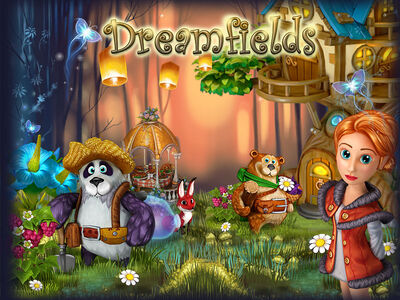 Plinga.com .

Set in a weird and wonderful place where each and every dream is unique and you can drift from one to another seamlessly. Dreamfields is a real fusion between farming, beauty and fantasy.

This 3D world is made entirely of your fantasies. Use your imagination along with a little help from some handy bears to create a peaceful and stunningly beautiful place. Visit your friends' dreams and let your fantasies flow!

Daily missions reveal real mysteries and with the help of a full fantasy bar you can generate and nurture cute pets!  Don't forget to feed your hungry bears on time, these furry friends need some jam every day, but in return they will help you beyond imagination!

Dreamfields is also a world of seemlessly never ending horizons, there is so much to explore and do, with many beautiful maps, each one as mysterious and captivating as the next. Explore Dreamfields and become lost in fantasy and wonder.